As someone with experience prosecuting cases of domestic violence and sexual assault, District Attorney Spencer Merriweather is passionate about pursuing trauma-informed strategies to support survivors and break the cycle of violence in our community. That is why he is proud to work alongside fellow advocates to establish a Family Justice Center, a nationally proven "one-stop" model designed to ensure victims, survivors, and their families have fast and easy access to law enforcement, prosecutors, counselors, healthcare providers, housing assistance, and more at the time when they need it most.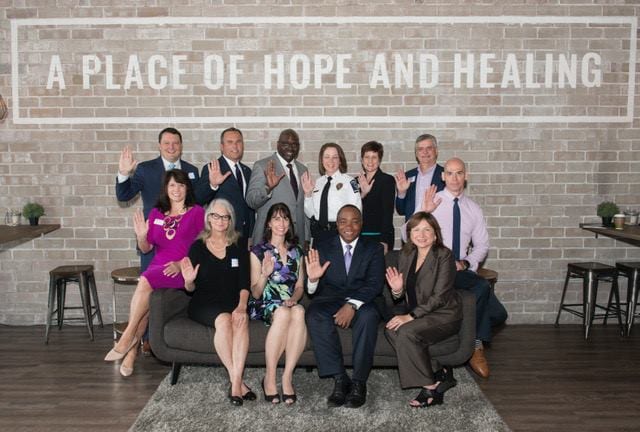 This Family Justice Center, which will be called The Umbrella Center, will serve Mecklenburg County survivors of domestic violence, child abuse, elder abuse, sexual assault and human trafficking.
DA Merriweather is a member of the CharMeck Family Justice Center Steering Committee that is working to develop The Umbrella Center. This facility would bring survivor services under one roof, allowing survivors to access available services in one stop and preventing them from reliving their trauma by repeating their story over and over. The District Attorney's Office firmly believes The Umbrella Center has the potential to not only enhance survivor safety and better position survivors to stand alongside prosecutors to hold offenders accountable but also decrease overall violence throughout Mecklenburg County.
The family justice center model has been implemented internationally and has been proven to reduce domestic violence-related homicides, increase victim safety, help break the cycle of violence for children, and improve efficiency in collaborative services for victims. Such models have also contributed to more frequent and successful prosecution of offenders.
In 2021, the coalition took a significant step forward by opening the Survivor Resource Center, a small-scale and short-term solution to the disjointed process survivors can face when they seek help. The Survivor Resource Center, located inside the Children & Family Services Center in uptown Charlotte, will assist the highest-risk survivors of domestic violence, sexual assault and child abuse until the more comprehensive Umbrella Center opens.