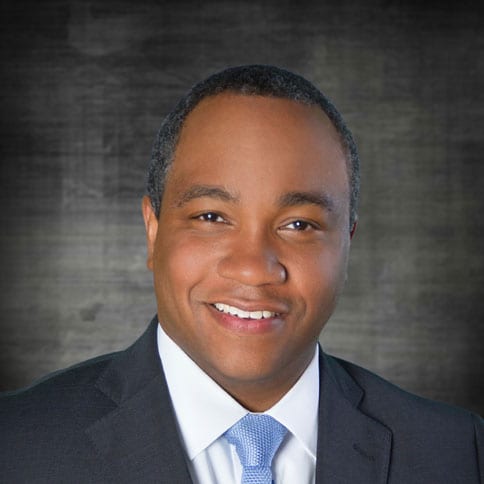 Spencer B. Merriweather III, who has dedicated his career to public service, has served as District Attorney since 2017.
During his tenure as Mecklenburg County's chief prosecutor, DA Merriweather has prioritized the prosecution of dangerous offenses by establishing and later expanding the Violent Crimes Team. He also created the Special Victims Team, a trauma-informed unit that works to seek justice for victims of domestic violence, child abuse, sexual assault and human trafficking. DA Merriweather removed financial barriers that prevented some defendants from participating in deferred prosecution programs, and he broadened referrals to treatment court programs. He also formed a Diversity and Inclusion Team to promote values essential to his office's vision of seeking justice through integrity so that all people can place their trust in prosecutors' work.
DA Merriweather was appointed by N.C. Governor Roy Cooper to serve as District Attorney after the previous District Attorney vacated the seat to become U.S. Attorney for the Western District of North Carolina. DA Merriweather was sworn into office on November 27, 2017, and he was subsequently elected in 2018 by the people of Mecklenburg County to continue serving in this post.
Prior to becoming District Attorney, he gained more than a decade of prosecutorial experience, serving in a variety of roles as an Assistant District Attorney at the Mecklenburg County District Attorney's Office. He sought justice for victims' families as a homicide prosecutor. He supervised the Habitual Felon Team, and he served as a senior sexual assault prosecutor. Over the course of his career, he prosecuted an array of other crimes, including robberies, drug trafficking and domestic violence. For a full year, he was the assigned prosecutor in three different Drug Treatment Courts, where he served as part of a treatment team that helped offenders confront substance use disorders.
DA Merriweather also helped implement a community liaison program, which sends prosecutors into the community to educate citizens about the work of the DA's Office. He has helped direct the office's hiring committee and has been a champion for boosting recruitment of attorneys from underrepresented communities.
Outside of the courtroom, DA Merriweather is engaged in the community, as well as in national prosecutorial organizations. For several years, DA Merriweather has been involved with Charlotte's Community Building Initiative, which seeks to promote equity and inclusion among both public and private community stakeholders. He currently serves as Vice Chair of the Association of Prosecuting Attorneys' Major County Prosecutors Council, and in 2021, he joined the National District Attorneys Association's Board of Directors. DA Merriweather is also an active member of the National Association of Black Prosecutors. A longtime member of the Mecklenburg County Bar, he previously served as the Chair of the Bar's Criminal Justice Section and as President of the Mecklenburg Bar Foundation Board.
DA Merriweather earned his law degree from the University of North Carolina at Chapel Hill in 2005 and received his undergraduate degree from Princeton University.
DA Merriweather and his family live in Charlotte. He is a member of St. Peter Catholic Church.